Following the official opening of the London EV Company's brand new R&D and manufacturing facility in Ansty, the company is delighted to announce that the second vehicle to come off the line will be a dedicated, range extended electric light commercial van (LCV).
This all new, highly flexible, commercially competitive electric vehicle will help fleet owners lower their running costs, improve air quality and support cities in tackling the pollution crisis in urban areas.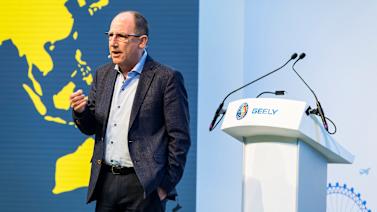 Chris Gubbey, CEO of the London EV Company said:
"This is going to be the future proofed 'white van' that people have been waiting for. Designed solely for the urban commercial sector, dedicated to the people who keep our cities working, it will be clean, competitive and ready for cities of the future."
The air quality crisis in many urban environments has highlighted the scale of the opportunity and demand for zero emissions capable commercial vehicles in major cities across the world. Electrification is a key component of the global strategy to reduce emissions and the London EV Company is determined to apply its expertise in advanced electric vehicle technology, and the taxi market, to urban commercial vehicles.​
Carl-Peter Forster, Chairman of the London EV Company said:
"In addition to our brand-new taxi, the manufacturing of this all new light commercial van is a transformative step for the company as we will move from a single product, single market organization to a multi-product, multi market organization. We remain absolutely committed to designing and manufacturing dedicated, range extended EVs that build upon our deep knowledge of advanced technologies and the needs of the urban commercial sector."
The London EV Company's research and development team of around 200 people, now based in Ansty, has been working around the clock, building upon its new core EV platform architecture, to develop an outstanding LCV that is fit for the world's cities in the 21st century. Its ground-breaking work in developing the all new taxi underpins the LCV strategy having been created on the same range extended EV technology platform. With this platform and manufacturing capability already in place, designed for flexible production from day one, the company can bring to market the new LCV through an incremental additional investment of around £30m taking the total investment from parent company Geely to £325 million.
The new vehicle will help to meet emissions targets in cities around the world, as well as being able to handle the toughest urban environments. Importantly for drivers, the vehicle will be city ready and lower running costs, even as electric charging infrastructure continues to develop.
Zhou Jianqan, the Head of Geely's Commercial Vehicle Division, said:
"I am extremely proud to see Geely's investment in the London EV Company allow it to evolve beyond the taxi market. The light commercial van sector in cities across the globe holds enormous potential and urban leaders are embracing zero emissions at an incredibly rapid pace.
This vehicle is a result of the new R&D team based at Ansty and will complement Geely's global expertise in electric vehicle technology adding to the world class talent across the group."